Is bleaching safe?
Yes, home bleaching with 10-15% carbamide peroxide has shown to be safe. The only side effects we seem to see are some mild, temporary temperature sensitivity.
What about in-office bleaching?

In-office bleaching is safe and effective. We offer Zoom2 Chairside Whitening System. In about an hour you can have a whiter and brighter smile.
Are the over-the-counter bleaching preparations safe?
Over-the-counter products do work but their effectiveness is questionable. The bleaching agents tend to be less powerful and the delivery systems tend to allow the bleaching agents to dilute with saliva and therefore decrease their effectiveness. These products are perfect for someone with minimal staining that is looking for a slight boost in color.
Does tooth whitening work?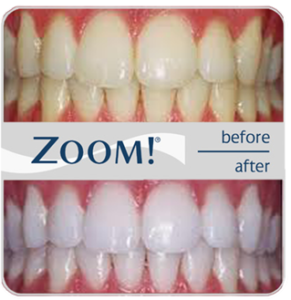 Bleaching lightens the color of the teeth that have been darkened from coffee, tea, red wine, tobacco, or just a natural part of the aging process. The effect can last up to five years depending upon your personal habits. Bleaching will not change the color of fillings, crowns, or veneers. Results vary depending upon the color of the teeth at the start of the procedure, and can be influenced by smoking, medication stains, or fluorosis.
For more information: The American Dental Association